News
Please come support Prairie FBLA!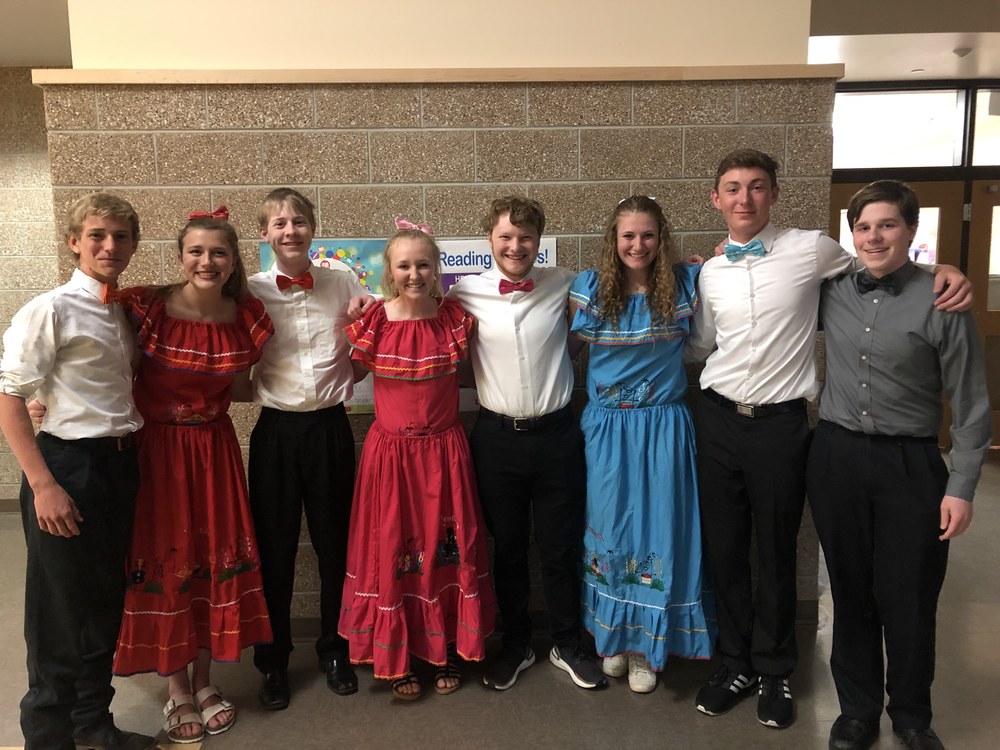 The 2018-2019 Spanish II Class this year was such a joy to teach. This group of students are driven, responsible, and charming. We tackled the Spanish future tense verbs...
SEE ALL NEWS
LIVE FEED

Tabitha Piel
about 1 month ago
Please remember that our registration for the 2019-2020 school year is tomorrow. We are asking that all families return packets by tomorrow but it is critical for our out of district families to return packets by tomorrow. Someone will be at school tomorrow from 6:30a.m.4:00 p.m.

Mrs. Larson - FFA Advisor
10 days ago
What a fun weekend the New Raymer FFA Officer team had on the Officer Retreat! We drove up to Estes Park and have stayed busy planning events for this coming year! We can't wait for you all to join us! It's going to be a great year!! Here are our new officers for the 2019-2020 year: President- Andrew Littlefield Vice-President - Montana Goodman Secretary- Ashley Scott Treasurer- Arek Wulf Reporter– Bobbie Schreiner Sentinel- Levi Troudt view image

Mrs. Larson - FFA Advisor
13 days ago
Attached you will find the Fair Schedule for this year. We would love to see everyone there. view image

Prairie School District
14 days ago
Dear Junior High Football Players and Parents, The football season is right around the corner. It is definitely going to be an exciting and fun season at Prairie School. Through the sport of football, there are so many life lessons to be learned along with the skills necessary to play the game properly. This season we are expecting to suit up a team of around 20 players! With only 55 minutes available in the last hour of school for practice and our first game is at the end of the third week of school, I feel it is vital that we spend some time preparing before school starts. I want to go over proper techniques for safety purposes, terminology, and get a jump start on our fitness to help avoid injuries. When thinking about preventing injuries, you can start today by working on your fitness. Here are some ideas of what you can do now to help yourself have a more successful and injury free season. • Always start your workout by warming up properly; jumping jacks, karaoke, a short one minute jog, and STRETCHES. • 30 lunges • 1 mile run • 20+ pushups • 30+ sit-ups • Planks, box jumps, jump ropes, bicycle ride, swimming, play basketball • STRETCH….. COOL DOWN BEFORE OUR FIRST PRACTICE, there is some paper work that needs to be filled out and ready to turn into the office. Go to the Prairie School website (under Athletics then Junior High) and find the Parent/Guardian Information Form, Doctor Physical Examination Form, Risk of Injury Form (Warning to Student and Parents), and Illegal Substance Abuse Agreement Form. The equipment that you will need to bring to the first day of practice; football cleats, shorts, t-shirt, water bottle, mosquito spray, sunscreen, and a breakfast bar to eat during our break. Thursday, August 8th ……. 7:00am (sharp on the field) – 10:00am (We will start handing out uniforms on this day) Friday, August 9th ………….7:00am - 10:00am Monday, August 12th ………7:00am – 9:00am (Or longer depending on Inservice start time) Tuesday, August 13th………7:00am – 9:00am (Or longer depending on Inservice start time) Wednesday, August 14th…First Day of School ** Also note our first game is September 5th against Pawnee, so we have 2 weeks to practice. Therefore, we will start our Tuesday after school practices right away the 20th. They will last until 5:00. These are not mandatory, but hopefully as many as possible can attend. Please call me if you have any questions or concerns (970) 580-2059, Glenn Carlson Prairie Junior High Football Coach GO MUSTANGS!!!!!

Mrs. Debra Meece, FBLA Adviser
20 days ago
Thank you to all who supported us in our trip to the National Leadership Conference! Congratulations to Amy Pollart for placing 4th in the nation in Agribusiness! view image
SEE ALL POSTS