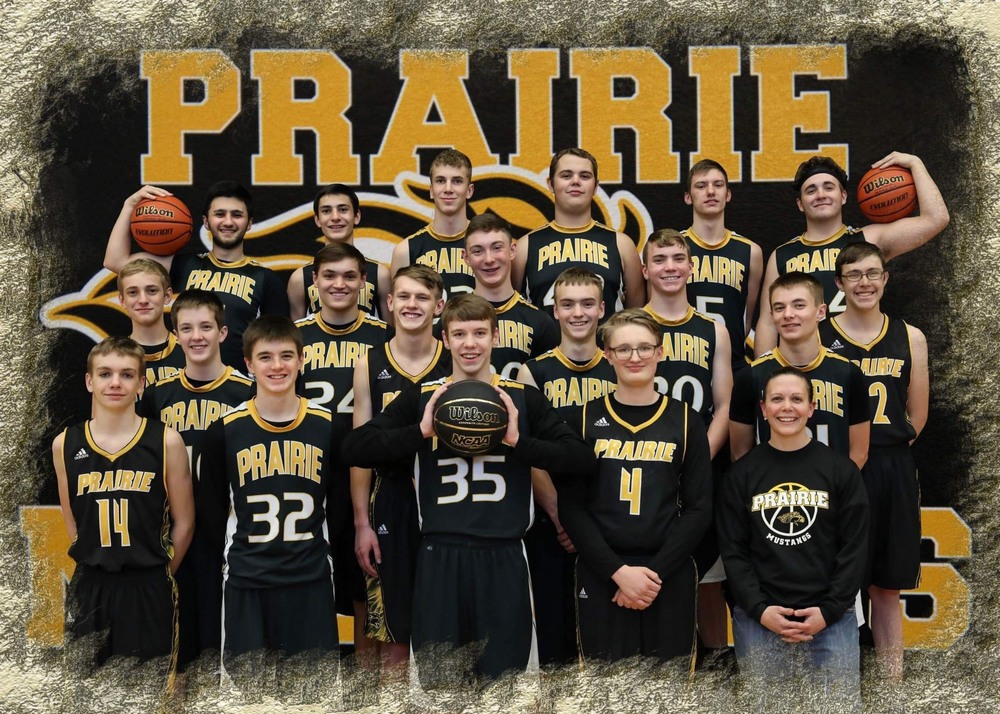 Prairie's Heroes
Tabitha Piel
Tuesday, March 05, 2019
Prairie's Basketball All-Stars: On to STATE!
Devin Littlefield- Hero at Prairie
By: Wyatt, Hunter, Riar and Seth
''Great works are not performed by strength but by perseverance.''Devin remembers this quote when preparing for a game. Number 23 has a childhood full of basketball and memories of playing with his grandfather in their quonset. Devin knows he has the tenacity to win state. Devin Littlefield is a great player that loves the game.
Childhood
Devin's hometown is Sterling, Co. His family played basketball and some still do. "I started to play since my youth age", Devin explained in his interview. "At a very young age, I have always loved the sport and I attended Prairie High School since I was little." Devin said. One of his most cherished memories is playing basketball with his grandpa and older brother at their home. Both inspired me to play basketball. With a strong history of sports and memories of playing basketball you can see that Devin will become a state champion.
For the Love of the Game
The love for the game is why Devin plays basketball. "Attitude is a factor of winning," stated Devin. "Key to success is you have to have a good mindset when playing the game,"Devin explained. Some of the reasons Devin plays basketball are because he wants to grow with his teammates, improve, and the passion for the game. " Basketball teaches players a lot of good strategies,"stated during our interview.Devin feels it gives you character and a competitive edge. He treats each quarter like its 0-0 and always tries his best. His best friend and teammate he looks up to is Walter Jordan. His favorite team plus his favorite NBA player are the Denver Nuggets and John Stockton. Standing 5' 10" and wearing the jersey with the number 23 Devin makes kids fall in love with the game. With a good mindset and has passion for the game Devin is a hero at PHS.
State
Wahoo! We're going to state! Devin is feeling focused and getting ready for the state game. "Working as team to make it this far in the season has been key!"he exclaimed. Devin's plan to become a state champion, is to work as a team. Devin listens to "Lost in the Moment" before games. Devin eats peanut butter pancakes the night before. Devin loves the game and wants to win. With pancakes, hardwork and great songs Devin is focused for state.
Mitch
Mitch's Interview with 3rd graders:
By Treska, Marianna, Dominick, T.L ,and Pilot
What is your favorite color?
Orange.
What do you feel like when you play basketball?
Happy.
How do you feel about going to state?
Nervous.
Why did you want to play basketball?
Because I wanted to be part of the team.
How old are you?
17.
What is your favorite team you've competed against and why?
Peetz because it was a close game.
What is your favorite sport?
Basketball.
How many years have you played basketball?
8 years.
When is your birthday?
September 21st.
Why do you like basketball?
Because I likes my teammates and my coaches.
When did you start playing basketball?
3rd grade.
Did you choose your lucky number to be your number?Why or why not?
No because my lucky number was already chosen.
What's your favorite shot?
Free throw.
Jade- State Champ
By: Hayden, Hannah, Ciree and Macie
"Biggest fear is not that are inadequate it is that you are powerful beyond measure.'' this is Jade's favorite quote for basketball. Jade learned how to play basketball by watching his older siblings . A special memory is of Michael Jordan . He is focused basketball player that loves the sport . He loves his school (Pawnee) and his team. Jade is ready to win state.
Childhood
With a family of basketball players, Jade was raised a basketball player. Jade is from Pawnee. He grew up in Herford, Colorado. He's 17 and he started playing basketball when he was little. He is the youngest of five. All of Jade's family played basketball. His sister was a state champion and looks up to her. He was inspired by his older brother. Pawnee still is home to Jade. Since he was young he has played guard or post. His number is 22. His birthday is April 23 and it would be a great birthday present to win state. With a childhood full of basketball, we know number 22 will win state.
For the Love of the Game
Jade Cass is a 6'3 175 pound senior that plays for the Prairie Mustangs. With his amazing performances they have made it to state. This is his first state game. Jade answered some questions for us. He thinks attitude is a big factor in winning. Good qualities for a successful team are work together and don't argue. Some good things about being an athlete is you can function under pressure. '' Hardest practice was conditioning He explained you are always tired and sore but you have to push through it. ''His favorite place to compete is Pawnee, which is where he goes to school. The biggest thing a coach has ever said to him was ''Any dream can be accomplished if you work hard enough. ''If he could play against anyone dead or alive he would play against Bill Russell. Bill Russell is an NBA player. For his whole life he wants to be involved in basketball. As you can see, Jade Cass is already an amazing player and wants to be involved in basketball for the rest of his life.
State
With a 6'3" guy on the Prairie Mustangs team, Jade a Pawnee kid is pumped for state and ready to win with his team. Working hard got them here and they are not going to stop! "It was weird from skipping schools,changing colors you can see why going to one school to another is hard, but I am hanging in there," said Jade. The way they win is one game at a time. One of the many songs he listens to before a game is Stronger by Kelly Clarkson. His favorite meal to eat before a game is meat. I can see why because meat is packed full of protein. He's got a history of all four of his siblings played and his sister won state once. Some of his favorite people to play basketball with are Trey and Logan. He hopes to win state with them. He plays post, that's his favorite. There is much more about Jade`s hopes and dreams for state . But his strong family, meals full of protein, and pump-up song gives him an edge. Good luck Jade!
Garrett
Garrett Lindell
By Tanna, CyW, and CyC
Garrett Lindell practices basketball 2 hours a day, he has been playing basketball since 6th grade. Garrett's favorite part about playing basketball is shooting. His number on the team is #20. Garrett is looking forward to state basketball because it will be challenging. His best memory of the season is when his team and him won regionals. Garrett's position is post and sometimes guard. His favorite part about having a combined team is having more people to compete with. One of the funniest stories on the team was when Devin and Mitch went to hug and they accidently kissed. Garrett has been to state in football twice. His favorite sport is basketball. He said that Coach Danielle Cass likes to yell at him a lot. Garrett leads as a upperclassmen by getting all the little stuff right.
Andy Long
By: Hadlie & William
Andy Long is a ninth grader (freshman). He has been playing basketball sense he was in third grade. What he likes most about basketball is the excitement and competition when he plays. Andy's best memory so far, in basketball is beating the Peetz team. Andy's jersey number is 32 and his position is guard. On average he scores three points a game, but the most points he ever scored at a game was 21 points, against Caliche. He is excited about state because it is fun on being on a winning team. He has got to watch state since he was ten years old. Another sport he has been to state in is football. Basketball changed his life because it gives him something to think about and it is a hobby for him. Andy said, when he is older he would like to go to college in Iowa.
Arek #1 Basketball Player
By: Zander, Derek, Genna and Jaden
"It doesn't matter how much time you get, what matters is what you do with the time you get." We see that every game. Arek plays from buzzer to buzzer. Arek Wulf started playing basketball at a young age, his love for the game and hardwork has prepared Arek for the elite eight. With his support from his family, friends, and fans, it will be fun watching Arek Wulf and the Prairie Mustangs play in state.
Childhood
Arek had a childhood where he played basketball and a family that is full athletes Arek started playing basketball in 6th grade. His hero is a teammate, Devin. He lives in Fort Morgan. His dad played football, his mom played volleyball his sister played track and volleyball. He has a lot of family members to support him when playing. Arek is 16 years old. As a child he had a dog named Tinker Bell. He is 6ft tall and he can shot from the 3 point line. With a family full of athletes it's no wonder Arek is playing in the state game.
Love of the Game
One of the reasons Arek plays basketball is to make team memonies. Areks dream competitor to play is Von Miller if he could Looking back on season his toughest practice was when he had to run a lot and he felt challenged.He loves basketball because of his teammates excitement for the game and the fun he has on the court.Arek says that basketball makes you a better person because you learn to communicate and push through.Arek loves the game and memories made.
State
Nervous, excited, and a little confident. Arek is ready for state. Arek listens to Eye of The Tiger before his games. He eats steak, bread, potatoes and drinks milk or water the night before a game. When I asked him what his plan is he said,"It does not matter how much time you get,what matters is what you do with the time." Arek has made it this far because he plays hard, stays focused and keeps calm. We know that he will be a champ! He has a good song, dinner and is focused for the game. Good Luck!
Maverik
Mav's Interview with 3rd graders:
By Landon, Addi, Aislyn, and Kali
Did you want to do this when you were a kid?
Yes I did.
How did you know you wanted to play basketball?
I played it when I was a little kid and wanted to keep playing.
What position do you like to play?
Point guard
Are you ever devastated when you are about to lose?
Not yet because I think that we can win.
Why do you believe you are going to win at state?
We are going to win at state because we believe we can.
When is your birthday?
May 30, 2003
When you play basketball how do you feel?
Excited & nervous
Who is your best friend?
I have many friends.
Why do you like playing basketball?
I am part of something bigger than myself.
How many tricks can you do with a basketball?
I can probably do about 25: I can spin it on my finger,dribble behind my back, palm ball, and many more.
Is basketball your favorite sport?
Almost, football is my favorite.
What made you try or play basketball at first?
I wanted to try something new.
Trey
Trey's Interview with 3rd Graders:
By Alice, Cameron, Shylynn, Kaydense, and Amelia
Where is your favorite place to play basketball?
Prairie
How fun is it to be on the Prairie Mustang team?
It's` fun because it is more challenging.
How did you feel during the game?
Nerves at first then natural.
How old are you?
18
What is your favorite color?
Green
Why do you like playing basketball?
It's a fun sport to play and it keeps me out of trouble.
What is your favorite shot?
My favorite shot is 3 pointers.
Where is your favorite place to eat?
Fuzzy Tacos in Denver.
How do you have good teamwork?
It comes from practicing everyday and knowing everyone.
What is your favorite food?
Spaghetti
How does it feel to move from one school to another to play sports?
It helps me to be prepared.
Carson
Basketball Player Interview on Carson Holzworth
By: Nevaeh, Dylan, and Brylee
Carson Holzworth has played basketball for 12 years. He practices basketball for two hours each day. His number is 24, and he mainly plays guard. Carson's favorite part about basketball is being around his teammates. He is looking forward to going to State because it is a new experience for him. Carson's best memory so far this season is being able to go to State. His favorite thing about having a combined team with Pawnee is having more teammates to work with. His funny story from this season is breaking (not literally) Andy Long's ankles. Carson has been to State in football before, but never in basketball. His favorite basketball team is the Denver Nuggets. Carson favorite sport is football. He is seventeen years old and a Junior in high school, or eleventh grade. He felt very excited to win against the number one seed in Regionals. He prepared for Districts and Regionals by thinking that he was already in the game and worrying about anything else.
Logan
WYATT SCHNUG #42
By: Sean, Sophia, Owen, Chase
Did you know that Wyatt describes himself as persistent? Wyatt Schnug only has one brother and looks up to Shaq. Wyatt is looking forward to making memories at state. Wyatt is a hard worker and player. #42 thinks that the team is great because they work as a team. So with his family and team Wyatt is pumped for state!
Childhood
Did you know Wyatt Schnug is a great basketball player? On a 1-10 scale he rates himself a solid 7, but in our books he's a 10. Wyatt is 17 and attends Pawnee High School. His older brother inspired him to play. By 4th grade he was playing basketball. His whole family played and now its on his shoulders. With a family legacy of basketball and a rating of 10 he is a great player.
Love of the Game
Wyatt has been playing basketball since he was little. He loves the game because it teaches athletes discipline. Wyatt says his team is a state team because they work together and are not selfish. One thing he will remember from his coach is to always belive in yourself. Wyatt loves playing on his homecourt at Pawnee. He loves basketball but there are some practices that have been tough, "After a loss practice was tough," Wyatt explained. With an attitude of positive, discipline, and a love for the game, Wyatt and the Mustangs will have their eyes set on the state title!
State
When Wyatt thinks of state he sees a gold trophy! Wyatt thinks about preparing for state he feels very nervous. But he knows he has made it this far by listening to Coach Whitlock and working hard. His plan to become a state champion is to work hard and don't give up. The song he usually listens to is the band ZZ Top before a game. The food he eats is anything that fills him up. With a great song,meal, and team ,Wyatt is ready for the big game.
David
Basketball Interview
by: Kolby, Cash, Cayde, and Silas
David Speicher is a Prairie School basketball player who plays for the high school team. David's average practice time is two hours per day. David has been playing basketball for six-eight years. David's favorite part about basketball is winning and going to state. The numbers David wears are 35 and 0. David is looking forward to state because his school has not been there in a while and it is exciting for him to go. David's favorite memory so far this season was his first dunk. David's favorite position is post. David Speicher is a Prairie School basketball team member.
Servet
By Tyler T, Brennan B, and Addi H.
Sevet was born in the country Georgia in 2000. The country Georgia is 6,000 miles away from here and has an 11 hour difference in time. Servet's favorite sports are basketball and football. One of his best memories in football was him scoring a touchdown. He also replied that his favorite memory in basketball was winning the last game at regionals to go to state. He has been to state in soccer back in Georgia. Servet's basketball number is 13 and plays as a guard. His favorite part about basketball is making 3 pointers. This is his first year playing basketball. He practices about 2 hours a day and is hoping that it will pay off and he and the team can bring the state title back to our community. Servet is looking forward to state because it is his first year in basketball. Servet is excited to bring that stories home with him. Servet's funny story from this season is when he was about to step onto the court and Carson made a 3 pointer. He says that the best part about having combined teams is that there are more guys and he can make so many more friends. Servet is a wonderful basketball player and is ready to bring home the state title.
Servet's interview from a third grader:
By Harlen Rucker
How old are you?
18
When did you start playing basketball?
This year