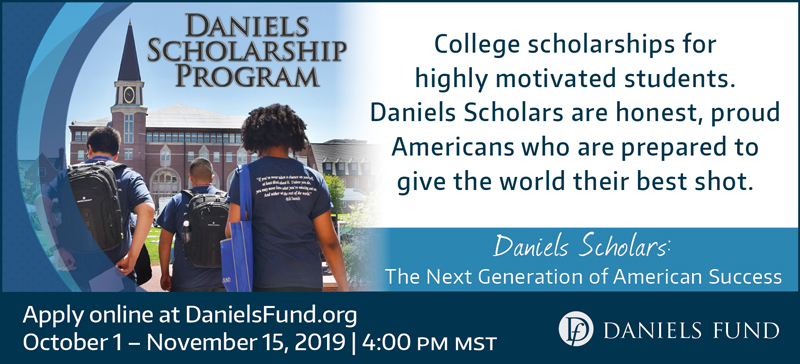 Daniels Fund Scholarship opens today
Andrea Kinnison
Tuesday, October 01, 2019
Students can apply online and find comprehensive information at www.DanielsFund.org/Scholarships.
The Daniels Scholarship is a "last dollar" scholarship which covers educational expenses, after considering other financial aid and the determined Expected Family Contribution (EFC). Daniels Scholars may attend any accredited college or university in the United States. If a scholar chooses to attend one of the Daniels Fund's 25 partner schools, the Daniels Fund will additionally cover the student's EFC. For more about partner schools, visit www.DanielsFund.org/PartnerSchools.
The online application is open from October 1 to November 15, 2019 at 4:00 pm mst.
The eligibility criteria for the Daniels Scholarship Program include:
Be a citizen or permanent resident of the United States
Be a resident of Colorado, New Mexico, Utah, or Wyoming
Be a graduating high school senior in Colorado, New Mexico, Utah, or Wyoming
Earn a minimum 3.0 high school GPA (on an unweighted 4.0 scale)
Earn a minimum SAT Math score of 490 and a minimum Evidence-Based Reading & Writing score of 490 or a minimum ACT score of 18 in each category (writing score not required). All scores must come from a single test. Super scoring is not accepted.
The applicant's parent(s) or legal guardian(s) must have an Adjusted Gross Income (AGI) of $85,000 or less on the 2018 tax return on which the applicant appears. For dependents beyond the applicant, there is an allowance for an additional $5,000 for each claimed dependent and $15,000 for each additional dependent in college.
Thank you for helping connect students with this opportunity. Please call the Daniels Fund toll-free at 877.441.3139 or email ScholarSelection@DanielsFund.org with questions.