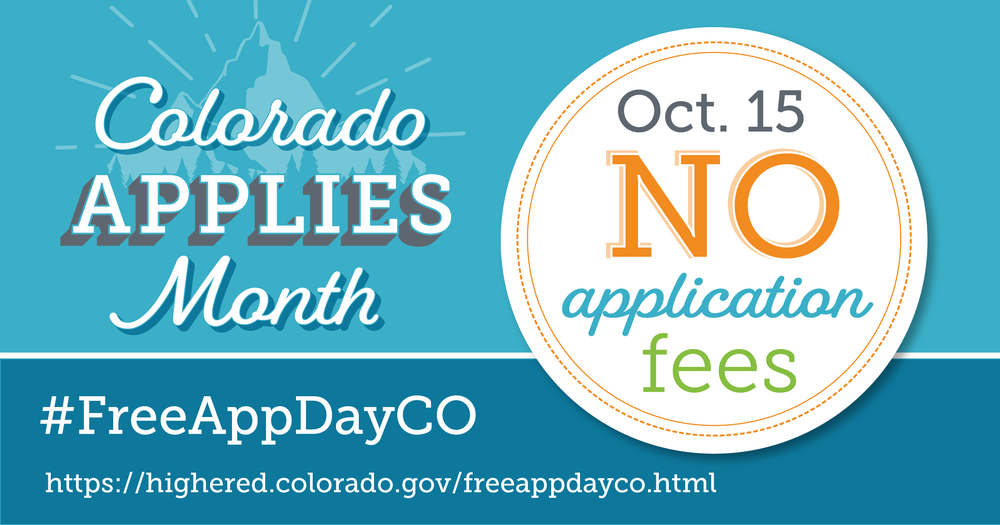 October 15th is FREE College APP day in Colorado!
Andrea Kinnison
Tuesday, September 10, 2019
Last year, Colorado students submitted nearly 23,000 admissions applications to technical schools, community colleges and universities during our first Colorado Free Application Day. We are excited to announce that this opportunity will take place again this year on October 15!
Students must submit a completed admissions application between 12:01 a.m. and 11:59 p.m. on Oct. 15, 2019 only. Any admissions applications that have been started but not submitted may not be granted a waiver.
How do I prepare for Colorado Free Application Day?
To take advantage of Colorado Free Application Day, it's best to have all admissions application materials prepared, double-checked and reviewed before October 15. That way, you can submit a high-quality, complete application and improve your chances of getting accepted. Check out the College Admissions Tool to explore programs and learn about the application process.
Colorado Free Application Day caps off Colorado Applies Month, a statewide campaign that encourages high school seniors to successfully apply to a higher education program and submit their Free Application for Federal Student Aid (FAFSA).