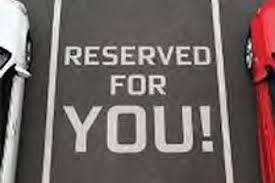 Football Parking Spots
Debra Meece
Monday, August 26, 2019
Want the best seat in the house at the home football games?
Buy a parking spot that is on the field! Spots will be located on the North and South sides of the field next to the goal posts! Parking spots will be sold for the season, and will include all Playoff games located at Prairie School. Parking spots will be marked for you at the game.
There are 17 spots available, so be quick to reserve a spot!
Contact Mrs. Meece at dmeece@prairieshool.org or Loralei Carroll at 702-686-6801 to buy a spot!
Price: $100 per parking spot
*All proceeds will go to Prairie FBLA's endeavors throughout the school year.
*Prairie School and Prairie FBLA are not responsible for any damage to cars during Football games.
*Spots are only for High School football games. Jr High games are not included.